Marden Edwards Autumn Exhibition Tour 2016
Post date: 30 November 2016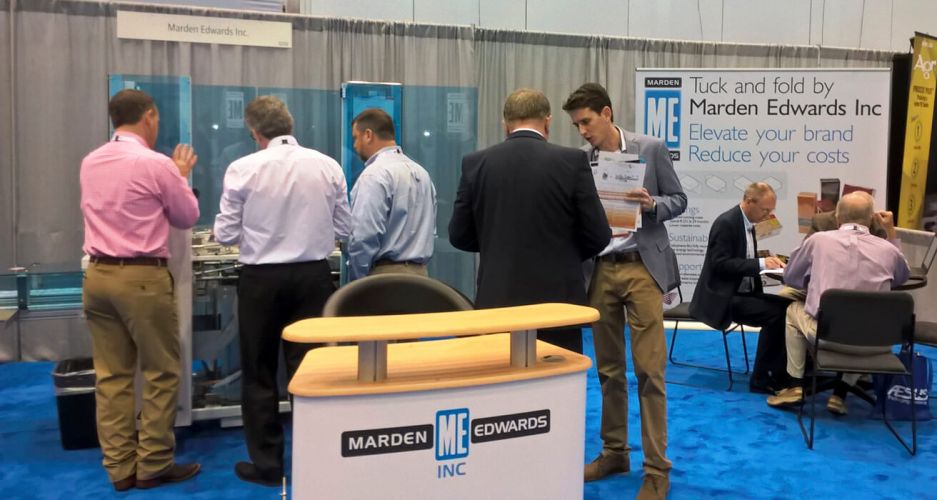 What a couple of weeks it has been for Marden Edwards on the exhibition calendar. We travelled from Chicago to Dubai then finished in Paris all in the space of 11 days!
PMMI, Pack Expo, Chicago
Beginning in Chicago, Marden Edwards exhibited at USA's largest packaging trade show, PMMI Pack Expo. The Marden Edwards team including: Martin Gray & Tony Strutt (Area Sales Managers), Mike Patey (Commercial Director), Scott Williamson (Marketing Manager) & Diehl Mateer (USA After Sales Support) spent the 4 day show demonstrating the latest Marden Edwards Evo series overwrapper, wrapping cosmetic cartons at speeds of up to 40 cartons per minute.


The
Evo series
generated much interest as it proved to be one of the very few overwrappers demonstrated at the show, and it was a great opportunity for us to meet with many of our global trade partners including: Celplast (North America), TeknoAdriatica (South America), and Nippon Hoso-Kikai Co., Limited (Japan), to name just a few. It was also an ideal location to meet with many of our key customers and discuss our range of carton wrapping solutions with many other prospects. It was a great 4 day show and was a fantastic platform to showcase the latest in Marden Edwards overwrapping capabilities.
Gulfood Manufacturing, Dubai
From Chicago to Dubai where Ben Hawes (Area Sales Manager) joined forces to support our trade partner DPH at the 3 day Gulfood Manufacturing exhibition.
Yet again, Dubai provided another great platform and location for customers and prospects to visit, with the show attracting over 35,000 visitors from around 60 countries worldwide. This truly is a global show and one that couldn't be missed.
Emballage All4Pack, Paris
From Dubai to Paris for France's biggest packaging show, 'Emballage All4Pack', the 3rd and final leg of the Marden Edwards autumn exhibition tour!
Showcasing at Emballage All4Pack gave us the opportunity to further demonstrate our cosmetic carton wrapping capabilities with the TM, TMX, Evo X and Semi Auto series machines all on show. In partnership with our French trade partners, 'Involtec', representatives Jean-Marc Ceaux & Nathalie Portier headed the stand, with support from Marden Edwards Ben Hawes and Mike Patey. Again, this was a valuable opportunity to meet with many customers and obtain many new contacts too.
We would like to say a special thank you to all those who took time out to visit us at any of the shows, and to those who helped out on the stand for us. This was a busy and rewarding exhibition experience for Marden Edwards and we look forward to seeing you all again soon at our next trade event, which is currently scheduled to be Interpack 2017, in Düsseldorf.


Please keep an eye out on our news and events posts for further exhibition news and updates.
Post Tags:
trade+shows, packaging+machinery, exhibition+news, all4pack, emballage, pmmi, gulfood, pack+expo