BHF South Downs Way Off-Road Bike Ride
Post date: 30 August 2019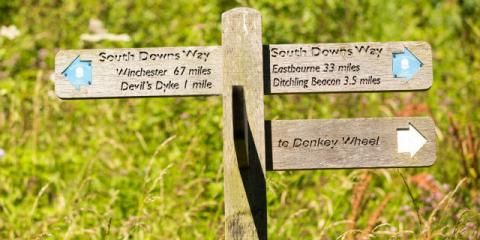 Congratulations to ME Shrinkwrap employee, Paul Manning who recently participated in the South Downs Way charity ride in aid of the British Heart Foundation (BHF). A keen cyclist, Paul took on the gruelling off-road mountain bike challenge on July 13, 2019.
The route from Winchester to Eastbourne took cyclists through 100 miles of the beautiful Dorset South Downs, with almost 4,000 metres of climbing involved, testing both their endurance, and commitment to the cause. An added bonus and motivation to keep on pedalling through to the very end was the offer of a free massage at the finish line provided by Athletes' Angels, the UK's largest provider of therapists for outdoor endurance and other sporting events. Though unsure whether Paul took them up on their offer, it certainly would have been a welcome treat to help relieve those tight and aching muscles after a long ride!
We are thrilled to confirm that Paul successfully completed his off-road cycle challenge, raising £425 in charitable donations in the process - what is a fantastic achievement! And, as part of our 'charity booster' initiative, Marden Edwards matched this amount, bringing the total donated to BHF to an impressive £850.
Well done once again to Paul and all those who participated in this taxing, fun, rewarding and picturesque charity event.
If you are interested in making your own donation to the BHF then please visit their website: https://www.bhf.org.uk/how-you-can-help/donate/donate-form
Post Tags:
charity, british+heart+foundation