Marden Edwards Macmillan Cake Sale 2021
Post date: 13 October 2021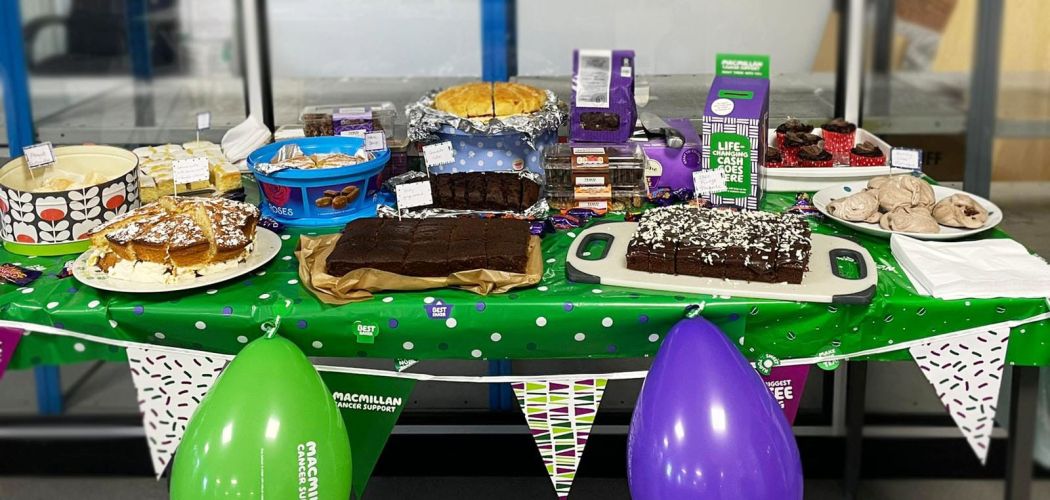 We all know the Marden Edwards staff aren't averse to a little homemade cake, and when that cake results in a financial donation to Macmillan Cancer Support, then things can't be bad.
Slaving over a hot stove!
Late into the night on September 29th our talented bakers were mixing, baking, icing, decorating and adding the finishing touches to a fabulous selection of home-baked cakes and other delicious delights all in preparation for the Marden Edwards Cake Sale for Macmillan on September 30th!

Even those who lack baking skills wanted to participate to ensure the success of our Macmillan cake sale, opting for a variety of pre-baked cakes, cookies and other sweet delights from local vendors.
Marden Edwards favourite cakes
Our bakers provided an astonishing selection of cakes, cookies and other sweet and tasty naughtiness, including:
traditional Victoria Sponge cake
rich and decadent Chocolate cake
sticky Gingerbread cake
delicious Lemon cake with lemon curd and double cream
Chocolate cornflake treats
a variety of chocolate bars
Peanut cookies
Chocolate meringues
Chocolate cup cakes
Belgian chocolate cookies
Lemon drizzle cake
From that list it certainly looks like Chocolate is high on the list of priorities when it comes to the flavour experts at Marden Edwards!
The Marden Edwards cake selection:
Marden Edwards Accounts Administrator, Wendy Gain, said of the event, "We are really chuffed…. there have been some very generous donations… it has to be noted that the majority of cakes were home baked, which makes it special…. who doesn't enjoy a home baked cake"?
Though sadly we have no photo of our Macmillan bakers, we'd like to thank the following not only for the delicious cakes but also for giving their time to make a difference in the lives of those they may never meet. We salute you for your commitment to supporting Macmillan Cancer Support:

Wendy Gain
Manda Rodwell
Tracy Baker
Jane Waters
Sami Anderson
Carolyn Pudwell
Celia Williamson
Tom Butler's Children, Jack & Holly
Kim Upton
Amelia Edwards
And the numbers are in!
Drum roll please! We are thrilled to announce that the Marden Edwards employees raised £143.65 which was matched by Marden Edwards Limited, so the grand total we have donated to Macmillan Cancer Support from the cake sale is £287.30.

Thanks again to everyone who participated: the bakers, the fakers and those who enjoyed devouring our cornucopia of special treats, and most importantly for your kind donations.

When's the next one bakers?
If you would like to donate to Macmillan Cancer Support please use this link: https://www.macmillan.org.uk/donate

Post Tags:
Macmillan