Advent Calendar Wrapping in time for Christmas
Post date: 16 March 2007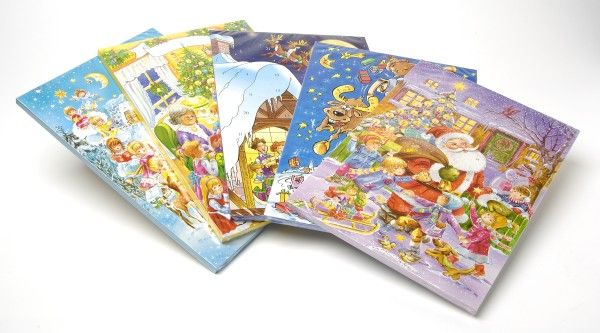 Marden Edwards has recently supplied one of its LX150FF confectionery over wrapping machines to a German company that manufacturers Advent Calendars. This is the second Marden Edwards machine that the customer has purchased, the last one being over ten years ago.
Wrapping Advent calendars is an area that Marden Edwards specialises in. Because the product inside the carton is chocolate, overwrapping is favoured to shrink wrapping not only for the quality of the appearance but also the reduced level of heat transfer. The LX150FF is able to fully overwrap the carton and seal the ends with the normal diamond end fold pattern or to simply wrap a tight sleeve around the pack.
The Advent Calendar itself is a long, wide pack that is only 12mm high. Because the pack is so low, even though the length is over 300mm, the normal maximum pack width for the LX150FF, it fits well within the machine's size range. The width of the pack is 250mm which is easily accommodated by the LX150FF that can wrap boxes up to 300mm wide.
The LX150FF runs at a speed of 50 cartons per minute producing a tight, high quality wrap around the pack which helps to keep the pack fresh. The near hermetic seal provided by the overwrap is important because although Christmas is still nine months away, production has already started.
Post Tags:
customer+applications, overwrapping+films