That's a Wrap on Interpack 2023
Post date: 30 May 2023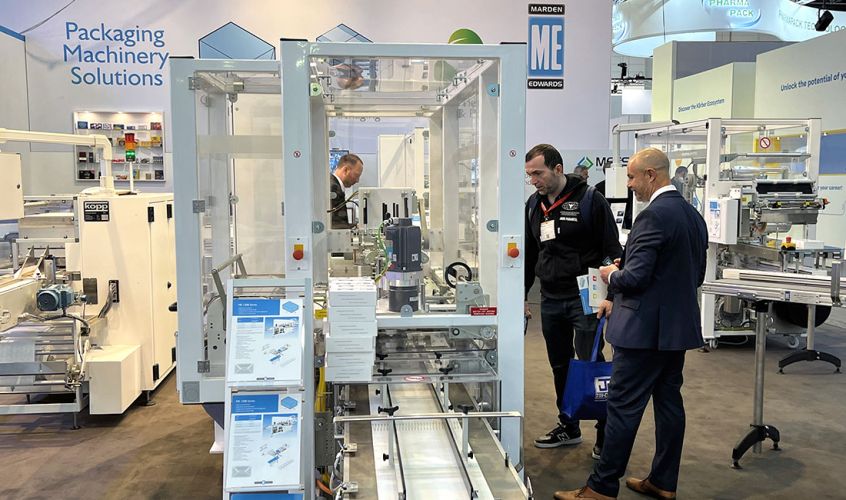 After the hustle and bustle of Interpack 2023, we have returned to Marden Edwards HQ with an energised team ready to get back to business! The 7-day processing and packaging show proved to be a great success. Read on to hear more about our experience at the show.
Wrapping-up Interpack
As visitors headed home ladened with product brochures, stats and other relevant literature relating to the latest and greatest products and packaging solutions available at Interpack, the Marden Edwards team were left with the task of breaking down the stand, packaging up our products, literature and machinery, to ready them for transit back to Marden Edwards HQ.
Interpack Stats
It has to be said that exhibiting at Interpack 2023 was well worth all the time and effort provided by so many of the Marden Edwards team. This year an estimated 143,000 visitors attended the show from over 155 countries – those are pretty impressive numbers! And it make sense that if you are involved in the packaging and processing industry, then Interpack is the show to attend.

Customers Key Requirements
During our time at Interpack we had the chance to engage with both prospective and existing customers, gaining an understanding of their current packaging production lines and desires to improve upon these. Through this dialogue, the sales team are able to obtain valuable insights and feedback to not only improve the customer experience but to also ascertain the key requirements for each customer, including: product appeal, eco-friendly wrapping materials (biodegradable, recyclable), high speed machinery, and cost-effectiveness. Our sales team can use this information ensure we provide the customer with the best machine solution and packaging materials to suite their needs.
Interpack Highlights Video Compilation
Take a look at our Interpack Highlights video compilation. This is just a glimpse of the demonstrations we ran during the show and some of the wrapping solutions we offer. For further information about any of the machinery in this video get in touch with our sales team via the contact form.
Global Trade Partners

The show was a great opportunity for us to reunite with many of our international trade partners whom we have built lasting relationships with, from sharing the stand with Willi Kopp Verpackungssysteme, to catching up with trade partners, Clearpack Group (with representatives from Malaysia, Singapore, and Thailand), and spanish trade partners, Luciano Aguilar S.A., as well as Jung Verpackungen (suppliers of eco-friendly wrapping materials), and Australian trade partners, MPI Australia - we thoroughly enjoyed valuable face-to-face time with all of them.
You can view the gallery below to see the great photos we snapped with our esteemed partners and colleagues - it's always exciting to connect with them and strengthen our global network of collaboration and business growth.
Machine Demonstration on the stand at Interpack 2023
Interpack Processing & Packaging 2023
Marden Edwards Stand B42 - Hall 16
With our trade partners from Clearpack Malaysia, Singapore and Thailand
With Luciano Aguilar S.A., our Spanish trade partners
Our sustainable packaging materials supplier, Jung Verpackungen
With our Australian trade partners, MPI Australia
We'd like to thank the entire Marden Edwards team for their hard work in making Interpack 2023 a tremendous success. We hope to see you all at Interpack 2026. Mark your calendars for 7-13 May, 2026 for another packaging extravaganza!
Post Tags: