Beautyworld Middle East 2022
Event Date: 31 October 2022
Post date: 11 August 2022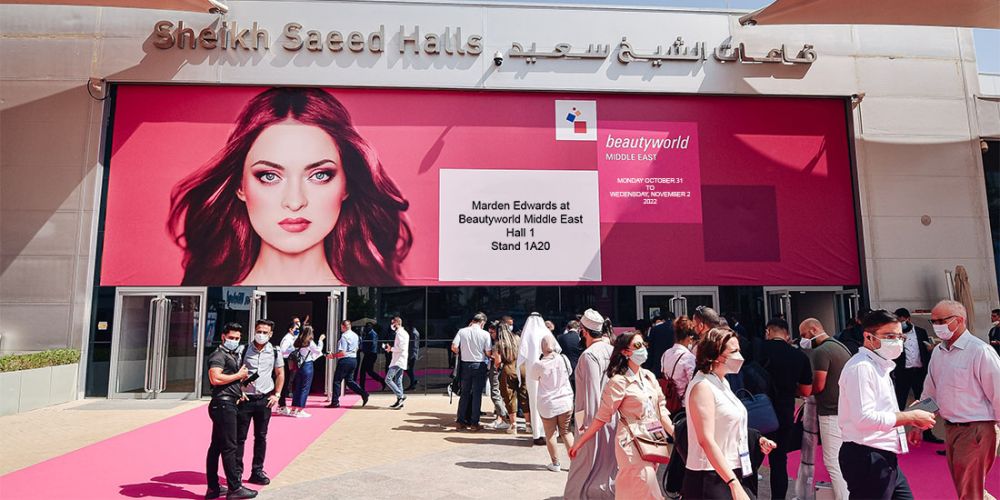 We're heading to Dubai for Beautyworld Middle East
Now in its 26th year, the Beautyworld Middle East show has become a go-to trade show not only for local and regional businesses but also to international companies - both vendors and visitors! It's the biggest beauty trade fair in the Middle East, so anyone in the beauty, cosmetics or personal care industry should consider attending to get to see a host of industry related vendors all under one roof showcasing their latest products, services and technologies.
Getting the personal touch
There is no replacement for having a face-to-face meeting with a new supplier and getting a personal demonstration of the products and services you desire to improve your business productivity and revenue, and that's exactly what you'll find when you visit the Marden Edwards stand at Beautyworld Middle East.
Beauty Tech - new category
Cosmetics & Skincare
Personal Care & Hygiene
Hair, Nails & Salon Supplies
Machinery, Packaging, Raw Materials & Contract Manufacturing
Fragrance Compounds and Finished Fragrance
Natural & Organic
Of course, you'll find the Marden Edwards stand in the Machinery product sector, located in Hall 1.

Show information
Dubai World Trade Centre (DWTC)
Sheikh Zayed Road
Trade Centre
Trade Centre 2
Dubai
UAE
Hall 1 / Stand 1A20
Date and times
Monday 31 October to Wednesday 2 November, 2022
10am to 6pm
Note: Masks are mandatory at this event!
What's happening at the show?
The Marden Edwards sales team at the event will be Victor Cornhill and Ben Hawes. They'll be ready to answer all your questions, as well as provide you with a personal demonstration our TM85 Series overwrapping machine, wrapping cartons in our eco-friendly film. We'll have all the relevant literature on the stand for you to take away with you to help you make the right decision about the best machine to improve your production line.
World leaders in Overwrapping machinery
Marden Edwards are world leaders in the development, design and manufacture of overwrapping machinery, offering a full range of overwrappers, banding machines, product handling systems, custom packaging machines, and more. We invite you to join us at Beautyworld Middle East and chat with our sales team to find out how our machines can benefit your business. And if you'd like to schedule an appointment at the show in advance, just fill out our contact form and one of the team will be in touch immediately.
For further information about what's happening at the show visit the Beautyworld website: https://beautyworld-middle-east.ae.messefrankfurt.com/dubai/en.html.
Post Tags:
BEAUTYWORLD+MIDDLE+EAST, trade+shows, exhibition+news