Evo Series Demonstration at Lankapak Sri Lanka
Post date: 08 December 2017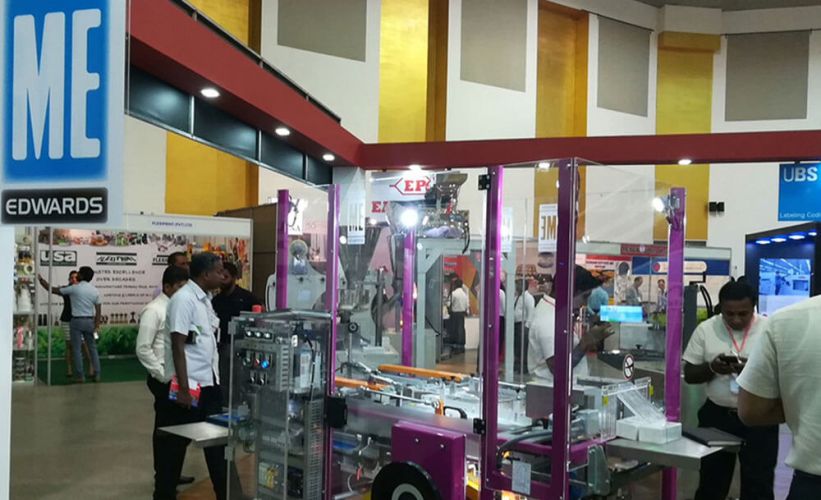 In October this year, Marden Edwards exhibited the psychedelic Evo demonstration machine. This unique opportunity allowed those who visited the Lankapak exhibition in Colombo, Sri Lanka to see the ME Evo Series machine as it's never been seen before. Supporting our Sri Lankan trade partners, 'PCL Solutions' Marden Edwards demonstrated the wrapping capabilities of the Evo Series to visitors of the show. As expected this drew many crowds and was a great success for us.
It was a pleasure working with our trusted trade partners PCL Solutions (Package Care Solutions).
Lankapak, now in its 16th year, is the premier international packaging and printing exhibition in Sri Lanka. The shows aim is to bring together industry professionals to educate prospective buyers about new and upcoming technologies and techniques that will help to improve productivity and efficiency of their production line. With over 150 stands set-up at BMICH (The Bandaranaike Memorial International Conference Hall) in Colombo, show sectors included: Packaging Machinery, Packaging Products & Related Materials, Printing Systems & Machinery, and other Services related to the Packaging Industry. For business owners requiring a full suite of service provider all under one roof, Lankapak was the ideal show to visit.
We'd like to thank PCL Solutions for their continued support as well as all the visitors that dropped by the stand at Lanapak to see the demonstration of our Evo machine.
For further information about Lankapak please visit their website: http://www.lankapak.com/
Post Tags:
exhibition+news, trade+partners, evo+series