Marden Edwards Over Wrapping Machines at Tabexpo 2007
Post date: 02 December 2007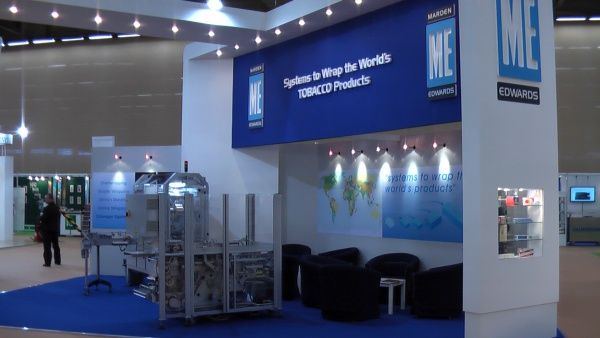 Marden Edwards has just completed the latest Tabexpo exhibition in Paris, France. Tabexpo is the foremost exhibition for the tobacco industry, bringing together machinery suppliers for both primary processing and packaging machines, materials suppliers and end users. Held every four years, Tabexpo is now owned by Tobacco Reporter magazine who will soon be announcing the venue for the next Tabexpo in four years time.

Marden Edwards exhibited two overwrapping machines, a WR200 high speed pack wrapping machine and a B125LH8 collator overwrapper. The WR200 was configured to wrap a twin pack of 10s cigarettes, generously supplied for the exhibition by Imperial Tobacco Group PLC. The twin pack was then fed to a B125LH8 overwrapper which created a bundle of the cigarette packs and overwrapped them in clear polypropylene.
This combination of machines demonstrated two of Marden Edwards' tobacco packaging areas of expertise, high speed collating for retail packs and large format collating for distribution purposes. There is a strong focus on cost reduction within the tobacco industry and bundling in clear film, compared with boxing first before overwrapping, can achieve considerable savings. Both machines generated significant interest and a number of active projects were discussed at the show.
Tabexpo itself was well received by both visitors and exhibitors. The quality of enquiry received was very high and it was a great opportunity to meet a large number of Marden Edwards over wrapping machine customers in a short space of time.
Post Tags:
exhibition+news, machinery, customer+applications, TABEXPO