Marden Edwards at Gulfood Manufacturing 2023
Event Date: 07 November 2023
Post date: 23 October 2023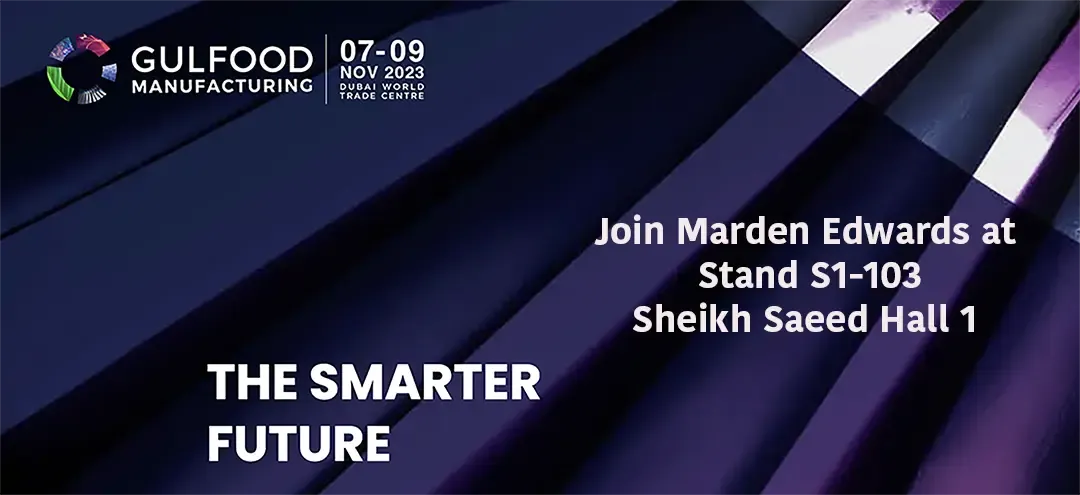 Discover the Future of Food Packaging at Gulfood Manufacturing 2023
One of the premier food and beverage processing and packaging events of the year is just around the corner. Mark your calendars, book your tickets and head for Dubai to Gulfood Manufacturing 2023, taking place from 7-9 November at the Dubai World Trade Centre.

Food & Drinks Packaging Solutions
Marden Edwards is happy to announce we'll be exhibiting at Gulfood Manufacturing with a host of industry colleagues showcasing the latest global technologies and solutions for the Food & Beverage industry. Offering everything from ingredients and packaging, to machinery and logistics expertise, this event is one not to be missed if you are interested in moving forward to a new age of packaging where eco-friendly materials and solutions are high on the agenda.
Key Show Categories:
Automation & Control
Ingredients
Packaging Equipment, Containers & Suppliers
Processing
Supply Chain Solutions
Show Location
Gulfood Manufacturing
Dubai World Trade Centre
Sheikh Zayed Rd
Dubai
UAE
Hall: Sheikh Saeed Hall 1
Stand: S1-103
Dates & Times
Monday 7 November & Tuesday 8 November 2023 - 10am-6pm
Wednesday 9 November 2023 - 10am-5pm
Showcasing our TM85 Series Overwrapper
Join us on the stand and meet Gary Thick, Ben Hawes and Victor Cornhill, our exceptional Marden Edwards sales team. They will be demonstrating the many benefits of adding the TM85 Series (part of our TM Series group of machine solutions) to your production line. For demonstration purposes during the show, the machine will be running cosmetics cartons at speeds of 35 cartons per minute - with the machine capability of up to 40 cartons per minute.
Gary, Ben and Victor will be available to discuss your packaging machinery requirements, and provide you not only with their expertise on the TM85, but also with literature relating to our entire range of overwrapping, banding and eco packaging solutions. Don't miss this opportunity to find out more about the Marden Edwards and how we can help improve your packaging process.
Book Your Slot
Find out more about the reliability, efficiency and flexibility of our packaging machinery by scheduling a time slot at the show in advance - simply fill out our contact form and one of the team will be in touch to secure your appointment.
We look forward to seeing you at the show, and if you require further information about Gulfood Manufacturing then visit their website: https://www.gulfoodmanufacturing.com/
Post Tags: