Marden Edwards at PPMA: Experts in Product Packaging Solutions
Event Date: 26 September 2023
Post date: 25 August 2023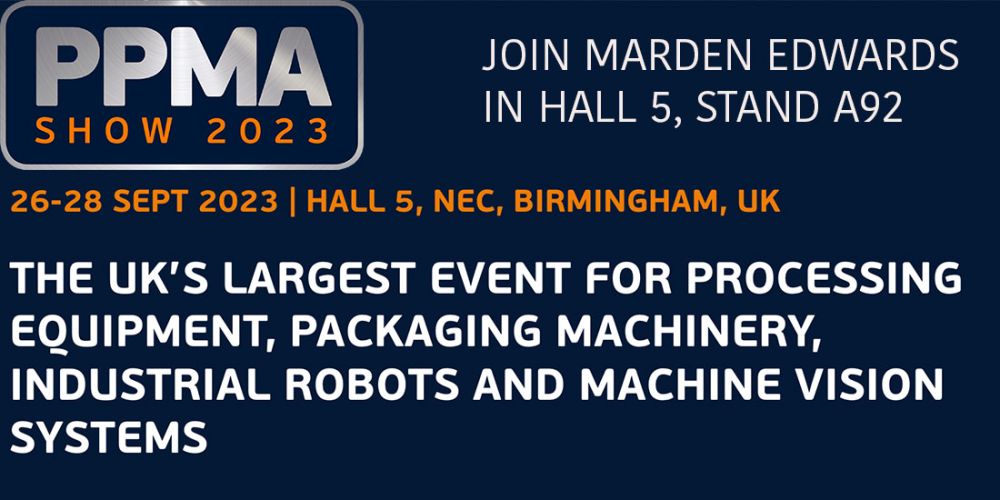 The PPMA Show 2023 is just around the corner, and we're excited to announce that Marden Edwards will be among the 330+ exhibitors attending this premier event in the packaging and processing industry calendar. Mark your calendars to attend from 26-28 September 2023. Join us in Hall 5 at Stand A92 at The NEC in Birmingham to find out about all the latest product packaging machinery and solutions from the Marden Edwards team.
Industry Categories at PPMA:
The PPMA Show 2023 offers a diverse platform that covers various industry sectors, creating a comprehensive event for packaging and processing professionals. Notable sectors include:
Baking
Beverages
Building materials
Confectionery
Cosmetics
E-commerce
E-liquids

Food
Household
Pharmaceuticals
Tobacco
and more
Why Attend PPMA - Meet Industry Experts
At the show, visitors can look forward to a stimulating experience where they'll discover the latest innovations, meet industry experts, and make valuable connections. With a wide range of sectors on display, from the newest machinery to eco-friendly materials and packaging design, attendees can learn about the future of packaging and processing. It's a great chance to stay up-to-date with industry advancements, explore a whole range of packaging, processing and production line solutions, as well as connect with a friendly community of professionals who share their interests. Don't miss out on being part of this event - start your journey towards more eco-friendly packaging solutions at PPMA 2023.
Show Location
PPMA Show 2023
The NEC
Marston Green
Birmingham B40 1NT.
Hall 5, Stand: A92
Dates & Times
Tuesday 26 September
Wednesday 27 September
9.30am-5pm
Thursday 28 September
9:30am-4pm
Live Demonstrations
At the Marden Edwards stand, visitors will have the opportunity to witness live demonstrations of a range of machine solutions including:
SB Series Stretch Bander - Reduced Packaging - 6 Pack Collation & Stretch Banding in PE - Experience the efficiency and sustainability benefits of our innovative packaging solutions.


Semi-Auto Ultra Lite - Manual Individual Carton Overwrapper - See how this advanced overwrapper streamlines packaging processes.


Manual Chamber Machine by ME Shrinkwrap - Explore the capabilities of this shrink chamber machine.
Of course you'll also get the chance to sit down and discuss all your packaging and wrapping machinery requirements with the Marden Edwards sales team who include: Gary Thick (Sales Director), Mark Bennett (Senior Engineer) and Ben Hawes (ME Shrinkwrap Sales Manager).
If you'd like to schedule an appointment at the show in advance, please get in touch via our contact form, or simply drop by the stand when you are at PPMA 2023 to see our machinery in action.

We look forward to seeing you soon at PPMA 2023, and if you require more detailed information about the show, please visit their website:
https://www.ppmashow.co.uk/
Post Tags: