That's A Wrap on Gulfood Manufacturing 2022
Post date: 21 November 2022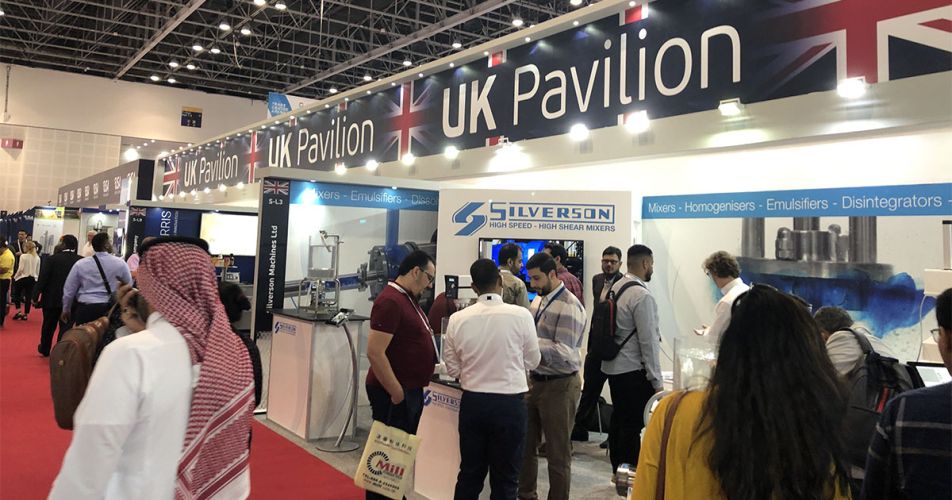 That's a wrap on Gulfood Manufacturing 2022. Our sales team had a positive and enjoyable experience at the exhibition in Dubai, with a full schedule of machine demo's; in-depth machine discussions with current customers; meetings with those who are either new to the industry, interested in our food and drinks overwrapping solutions, or new business prospects wishing to expand and upgrade their current wrapping systems to a higher standard.
Visitors from around the Globe
With the show being based in Dubai, the majority of visitors attending were from that region, with a few exceptions. Marden Edwards visitors and enquiries came from businesses in: Algeria, Egypt, India, Jordan, Kazakhstan, Kenya, Lebanon, Oman, Pakistan, Philippines, Portugal, Qatar, Saudi Arabia, Sri Lanka, Sudan, and United Arab Emirates.

Ben Hawes with Abdalhafeez Osman Ali of Cofftea Trading Co Ltd. of Khartoum, Sudan
Overwrapping for multiple industries:
Though this show was dedicated to the food and beverage industry, many of the visitors to the Marden Edwards stand were aware that our overwrapping machinery is suited to a wide range of products, and thus we discussed everything from confectionery, biscuits and tea carton overwrapping to perfume, tobacco, vapour and e-cigarette packaging.
Show highlights
The ME sales team were thrilled to have this opportunity to meet up and chat with 3 of our tea customers at the DWTC. These were: Abdalhafeez Osman Ali, from Cofftea Trading Co Ltd., in Khartoum, Sudan (pictured above). Mr. Mamoon M. Aklbous of Al-Kbous Industrial Trading & Investment Co. W.L.L. from The Republic of Yemen (pictured below), and our Sri Lankan trade partner, Thushantha Karunanayake of PCL Solutions (PVT) Dilmah (pictured bottom of page).
Left to right: Ben Hawes and Gary Thick (both ME) with Mr. Mamoon M. Aklbous of Al-Kbous Industrial Trading & Investment Co. W.L.L. from The Republic of Yemen
Visitor interest at Gulfood 2022
During our 3 days at the Gulfood Manufacturing event, Ben Hawes, and Victor Cornhill (ME area sales managers) were able to get a clear understanding of what our customers, prospective clients and trade partners are looking for, this included: our approved used machinery, building further global trade partner connections, enhancing knowledge and relationships with eco-friendly paper and film material suppliers, low-volume overwrapping semi-auto solutions for start-up companies, moving from shrink film to overwrapping, service support, spares and training, and those who were searching for a new machine supplier to improve productivity, quality and efficiency.
Under discussion
With the expertise of the sales team, we received enquiries relating to the following Marden Edwards machine solutions, overwrapping tea bag cartons, confectionery, food, and biscuit carton wrapping, eco-friendly paper bundle overwrapping for soap, large garment wear carton overwrapping, perfume carton overwrapping, high speed bottle wrapping with paper and hot melt, tobacco wrapping solutions, and overwrapping for vape product cartons.
From left to right, Gary Thick, Ben Hawes (both ME) with our Sri Lankan trade partner, Thushantha Karunanayake of PCL Solutions (PVT) Dilmah, and Victor Cornhill (ME)
Our experience at Gulfood 2022
On attending Gulfood 2022, Ben Hawes said, "Great to be back in Dubai after a 2 year absence, and a really good opportunity to catch up with existing customers and with Trade Partners from the region. Overall the footfall was at an acceptable level considering it was the first Gulfood Manufacturing since 2019, and a very successful show for the Marden Edwards Team. We have several new projects, as well as confirmed orders from new and existing customers. We can't wait to be back in 2023!"
So, as you can see, we sent a winning sales team to Dubai and they didn't come home empty handed! Great job gentlemen, and thanks to everyone at Marden Edwards HQ and Gulfood Manufacturing involved in making sure the event was a positive and productive one. It paid off!
If you would like to find out more about our machinery range, or speak to one of our sales team please use our contact form to send your interest or enquiry.

That's it for the events calendar for 2022. We'll be back on the road again in 2023, so come back to find out more about those shows soon.
Post Tags:
trade+shows, exhibition+news, gulfood, food+and+drink+industry