Willie's New Chocolate Shrinkwrap Machine
Post date: 19 September 2016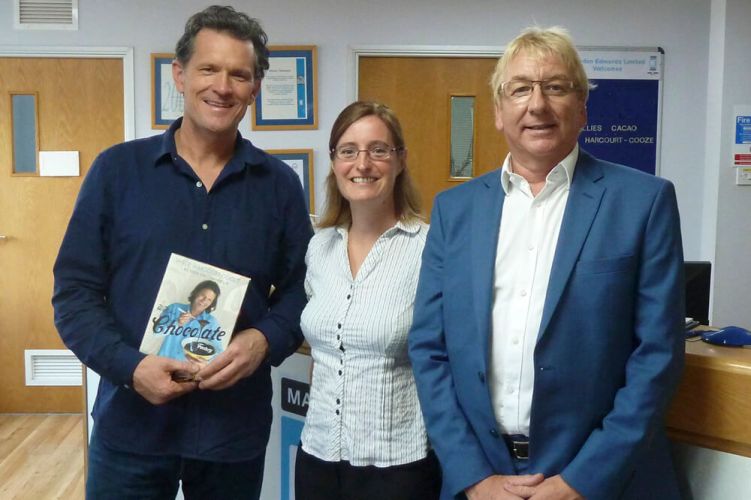 It's not every day that you get a celebrity at the front door, so it's no surprise that Marden Edwards HQ was all a buzz earlier this month when we received a personal visit from none other than TV Celebrity and British based Chocolate Maker, Willie Harcourt-Cooze.
A current customer of Marden Edwards, Willie was in town to collect the latest addition to his growing arsenal of packaging machinery, a Shrinkwrap 'chamber machine', having previously purchased a BX series machine to wrap his premium chocolate products.​
Adding the new shrinkwrapper to his production line will increase efficiency and enhance presentation of the brand new product line Willie has been developing.
Choco-holics around the UK will no doubt remember Willie's Channel 4 TV show, 'Willie's Wonky Chocolate Factory', a 4-part series which followed Willie as he created his chocolate products, travelled to his Cacoa Farm in Venezuela, and shared a selection of delicious chocolate based recipes along the way.
Having this multi-talented author, Cacao farmer and Chocolate maker 'in the house' was an especially exciting moment for Marden Edward's accounts administrator, Wendy Gain, as Willie personally signed her copy of 'Willie's Chocolate Factory Cookbook' - Pictured above are Willie, Wendy and Graham Fox, Marden Edwards Shrinkwrap Sales Manager.
It was a nice change from the regular day-to-day at Marden Edwards but now it's back to business as usual!
For further information about Willie and his chocolate factory, visit https://www.williescacao.com/
Post Tags:
shrinkwrapping, confectionery, bx-series, me+shrinkwrap