That's a Wrap on Pack Expo Las Vegas 2023
Post date: 19 September 2023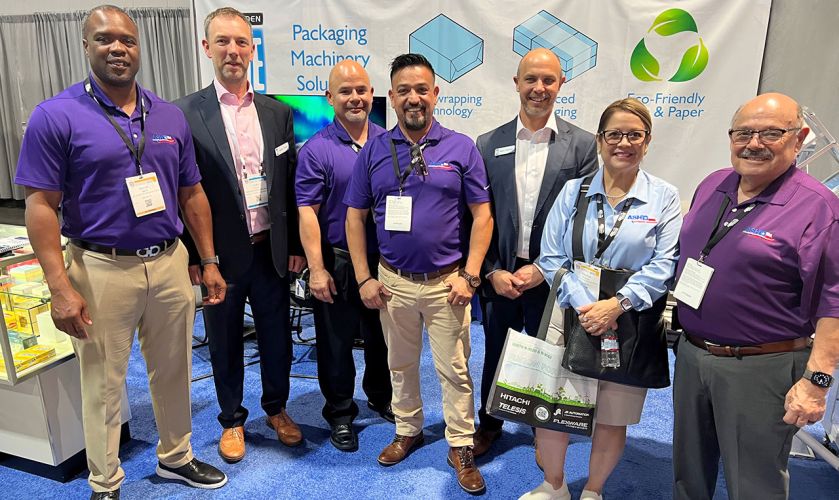 Returning to Las Vegas and PMMI Pack Expo is always something a little out of the ordinary, and for obvious reasons. The Las Vegas Convention Centre was buzzing with anticipation and excitement as the 3-day event began. Visitors not only from the USA but also from around the world, including locations as far afield as Japan, Taiwan, and Europe came together to see and hear all about the latest innovations in the packaging industry.
During the trade event, we enjoyed a visit from our US regional trade partners, ASH Packaging (pictured above). As well as meetings with valued customers, strengthening existing relationships, and nurturing new prospective clients, interested in improving their manufacturing production line.

Getting Attention with Eco-Friendly Packaging Solutions
Compared to the 2021 show, we noticed an increase in foot traffic which resulted in a consistently busy stand, attracting visitors eager to explore our overwrapping and packaging machinery, as well as find out more about our eco wrapping materials and packaging solutions. Meeting up with current, past and prospective new customers was the order of the 3-days! Specifically, interest came from visitors within the following markets: pharma, cosmetics, food, paper, tobacco and confectionery.
Insight from our Sales Director
Gary Thick, Marden Edwards Sales Director, remarked: "It was great to return to the USA's West Coast for the PMMI Pack Expo Las Vegas. As always, the show provided an excellent platform to meet and interact with some of our valued trade partners, customers, and visitors worldwide, including the United States, South America, Europe, Asia, and New Zealand, expressing much interest in our eco-friendly packaging solutions. Overall, the PMMI Pack Expo Las Vegas show exceeded our expectations, and we can't wait for our next USA expo, PMMI Chicago 2024."

Thanks and Gratitude
As we wrap up our time in Las Vegas, we want to extend our sincere thanks to everyone who played a role in making PMMI Pack Expo Las Vegas 2023 a success. To our dedicated team at Marden Edwards, and ASH Packaging, a heartfelt thank you for your hard work in preparing for the event and ensuring our booth reflected professionalism and innovation. To the event organisers, we appreciate your efforts in creating a platform that brings together industry professionals from around the world.
Until next time, Las Vegas, thank you for your warm welcome, and to our global customers, we look forward to reconnecting soon. That's a wrap on Pack Expo Las Vegas 2023.

Post Tags: