Marden Edwards Exhibition Schedule 2023
Post date: 19 January 2023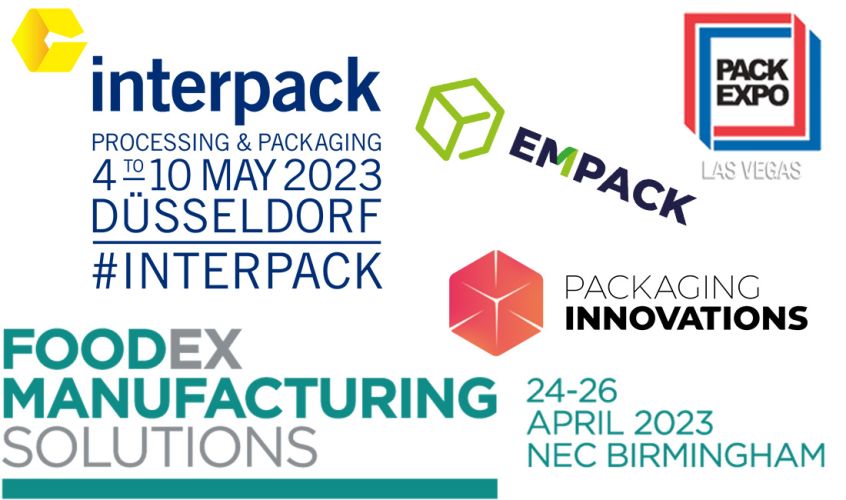 And so it begins, the new year brings another schedule of fun and exciting exhibitions for the Marden Edwards sales team to attend, providing us with the opportunity to see our current and prospective customers face-to-face, catch up with industry friends and colleagues, and find out about new innovations in the packaging and processing industry from vendors around the world.
So, what's happening?
Easyfairs Empack, NEC Birmingham
Marden Edwards is set to start the 2023 exhibition season with a visit to Easyfairs Empack at the NEC Birmingham on the 15th – 16th February, where we will be exhibiting our carton overwrapping and shrinkwrapping solutions, using a range of eco-friendly materials on stand E40.
Foodex Manufacturing Solutions, NEC Birmingham
From Empack we remain at the NEC in Birmingham for the FoodEx Expo on the 24th - 26th April demonstrating our shrink wrapping solutions for the food & beverage industry on stand B121.
Interpack, Dusseldorf, Germany
Soon after we travel overseas to Germany, Dusseldorf for Interpack, taking place on the 4th – 10th May. Interpack is the world's largest trade fair for the packaging sector and related process industries attracting nearly 3,000 exhibitors and approximately 170,000 visitors globally. In partnership with our German trade partner Willi Kopp e.K. Verpackungssysteme we will be exhibiting our full range of carton wrapping solutions in hall 16 / stand B42. Banding, overwrapping and tobacco track and trace systems will be on show with our global sales team and trade partners to assist.

PMMI Pack Expo, Las Vegas, USA
After a 4 month break from Interpack, we cross the Atlantic to the USA, Las Vegas for PMMI Pack Expo taking place 11th – 13th September, for the USA's premier packaging show. This is a great opportunity to meet with our current and prospective customers in our US region where we will be showcasing our latest carton wrapping machine solutions on booth: SU-8438.
Additional exhibitions, as listed below are yet to be finalised. Check out the full schedule and remember that we update this list throughout the year as new shows are confirmed.
Packaging & Processing Exhibitions and Trade Events 2023
Dates
Event
Location
Stand
Machinery
15 - 16 February 2023
EMPACK PACKAGING INNOVATIONS
Birmingham, UK
Hall 1
Stand: E40
Automatic L-Sealer &
Heat Tunnel Shrinkwrapper
Semi-Auto Overwrapper

24 - 26 April 2023
FOODEX MANUFACTURING
Birmingham, UK
Stand:B121
Semi Auto L Sealer & Heat Tunnel
Manual Chamber Shrinkwrapper

4 - 10 May 2023
INTERPACK
Dusseldorf, GERMANY
Stand:B42
Hall 16
Overwrapping
Banding
Track & Trace
11 - 13 September 2023
PMMI PACK EXPO
Las Vegas, USA
Stand: SU-8438
Machinery to be confirmed
26 - 28 September 2023
PMMA SHOW
Birmingham, UK
Hall 5
Stand A92
SB Series Stretch Bander
Semi-Auto Ultra Lite
Manual Chamber Machine
30 October - 1 November 2023
BEAUTYWORLD MIDDLE EAST
Dubai, UAE
Stand: M22
TBA
7 - 9 November 2023
GULFOOD MANUFACTURING
Dubai, UAE
Hall 1
Stand: S1-103
TBA
27 - 28 November 2023
WORLD TOBACCO MIDDLE EAST
Dubai, UAE
TBA

TBA
Post Tags:
trade+shows, exhibition+news