Marden Edwards Exhibition Schedule 2022
Post date: 24 January 2022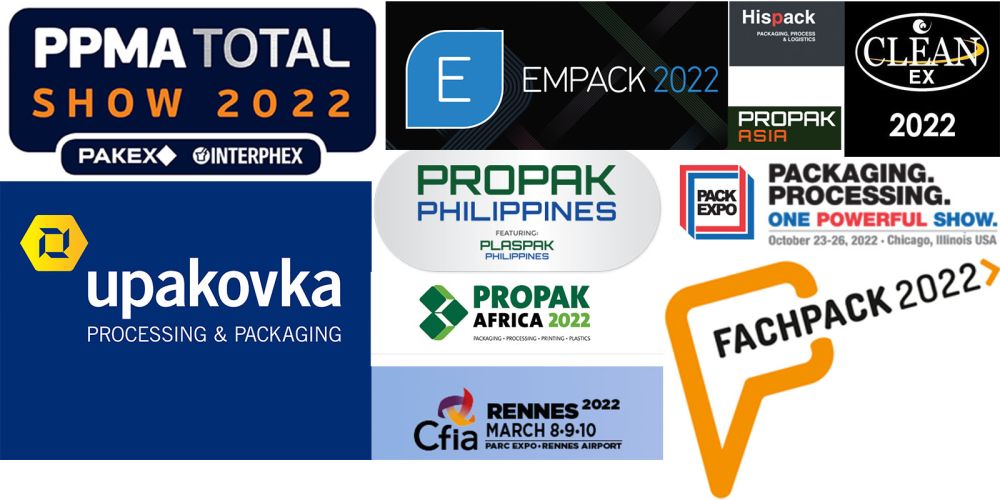 It's that time of year again... that's right, we've been planning our trade show schedule for 2022.
New exhibitions for Marden Edwards
This year we are adding a couple of new exhibitions, including: CFIA, CLEANEX, and Propak Philippines - in fact, in 2020 we had planned to attend CleanEx here in the UK but due to the pandemic, that show was cancelled.
Here's hoping this year we can keep to our plan and get out there to meet up face to face with many of our past, current, and prospective customers.
Here's a brief summary of where you'll find us throughout the year:
Trade events & exhibitions for 2022
25 - 28 January 2022
UPAKOVKA
Moscow, Russia

8 - 11 March 2022
CFIA
Rennes, France
24 - 25 April 2022
CLEANEX
Ascot Racecourse, UK
24 - 27 May 2022
HISPACK
Barcelona, Spain
25 - 26 May 2022
EMPACK
Birmingham, UK
15 - 18 June 2022
PROPAK ASIA
Bangkok, Thailand
24 - 26 August 2022 -

POSTPONED

PROPAK PHILIPPINES
Manila, Philippines
27- 29 September 2022
FACHPACK
Nuremberg, Germany

27- 29 September 2022
PPMA
Birmingham, UK
23 - 26 October 2022
PACK EXPO INTERNATIONAL
Chicago, USA

31 October - 2 November 2022
BEAUTYWORLD MIDDLE EAST
Dubai, UAE
8 - 10 November 2022
GULFOOD MANUFACTURING
Dubai, UAE
15 - 16 November 2022
WORLD TOBACCO MIDDLE EAST
Dubai, UAE
1 - 3 February 2023
PROPAK PHILIPPINES
Manila, Philippines
14 - 17 June 2023
PROPAK ASIA
Bangkok, Thailand
Show updates & details
We'll be updating the list throughout the year and sharing the relevant details about each show over the coming weeks and months. If anything changes we'll update the website and this list accordingly, so keep checking back.
Book an appointment in advance
If you would like to schedule an appointment with our sales team for any of these events, or have any other questions relating to our attendance at the shows, please get in touch with us via our contact page and one of the team will respond to you promptly.
Post Tags:
trade+shows, exhibition+news